Hong Kong, April 14, 2023 – The 'Say Yes To Breastfeeding - Corporate Training' co-organized by The Hong Kong Committee for UNICEF (UNICEF HK), Ming Pao Publications and Baby Friendly Hospital Initiative Hong Kong Association (BFHIHKA) was held today. The event was supported by Hong Kong Breastfeeding Mothers' Association, Hong Kong Small and Medium Enterprises Association, Hong Kong Women Professionals and Entrepreneurs Association, Hong Kong Women Teachers' Organization, La Leche League Hong Kong, Natural Parenting Network, OIWA, The Chinese Manufacturers' Association of Hong Kong and The Hong Kong Medical Association. Goal of this corporate training was to help businesses understand how they can create breastfeeding-friendly environments in the workplace. The training received the presence from Dr. Barbara Lam, Council Member of UNICEF HK and Dr. Leung Wing-cheong, Chairperson of BFHIHKA.
During the seminar, two speakers shared their expertise with attendees.
Ms. Sandy Lung, Senior Training Officer of Equal Opportunities Commission, explained through cases studies on how breastfeeding women are protected under the Sex Discrimination Ordinance and gave attendees a better understanding on scope of protection offered by the Ordinance, relevant legal responsibilities as well as good practices examples.
Ms. May Hui, a registered nurse, midwife and lactation specialist, provided valuable and practical knowledge and needs from breastfeeding mothers, and explained different kinds of assistance that corporates can provide to breastfeeding mothers. She pointed out that breastfeeding support is the smartest investment for families and society and advocated for supporting breastfeeding together.
Attendees gained insights and knowledge into the importance of creating breastfeeding-friendly environments in the workplace. By implementing policies to support breastfeeding mothers, businesses can strengthen employees' sense of belonging to achieve employee friendliness, fulfill corporate social responsibilities and enhance corporate image, and become a customer-friendly place to attract more customers.
We thank all speakers, participants and organizations who contributed to the success of this event, and call for businesses from all sectors to join in hands with us to support breastfeeding.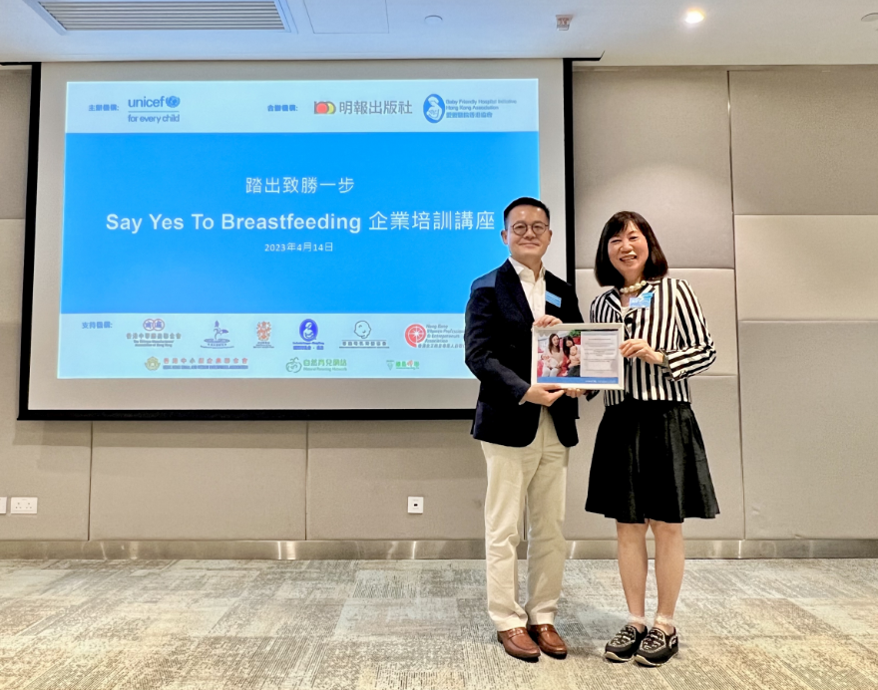 ©UNICEF HK/Say Yes/2023
Dr. Barbara Lam, Council Member of UNICEF HK presenting our token of appreciation to one of the co-organizers -- Dr. Leung Wing-cheong, Chairperson of BFHIHKA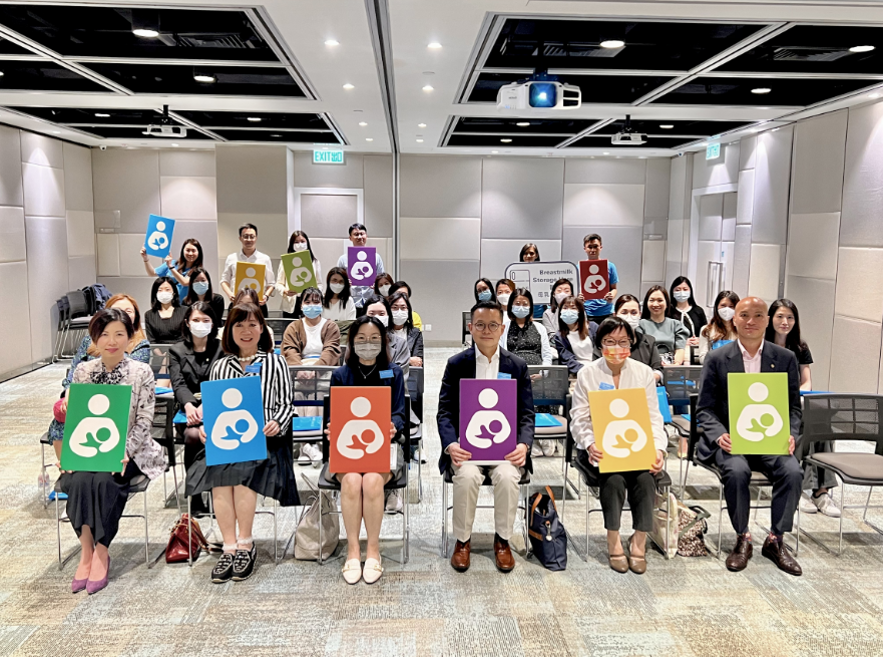 ©UNICEF HK/Say Yes/2023
Group photo with participating guests