Hong Kong, November 18, 2022 – The Hong Kong Committee for UNICEF (UNICEF HK) hosted "Say Yes To Breastfeeding – Acknowledgement Ceremony 2022" today to acknowledge corporations and organizations for supporting breastfeeding in Hong Kong.
Guests including Dr. Libby Lee, Under Secretary for Health of HKSAR Government; Dr. Thomas Chung Wai Hung, Consultant Community Medicine (Family and Student Health), Department of Health; Mr. Ricky Chu Man-Kin, Chairperson of Equal Opportunities Commission (EoC); Dr. Leung Wing-Cheong, Chairperson of Baby Friendly Hospital Initiative Hong Kong Association (BFHIHKA); and Dr. Barbara Lam, Council Member of UNICEF HK, officiated the ceremony today.
Dr. Libby Lee stated that under the active promotion and collaboration of the Government and various sectors, the local breastfeeding rate has been on a steady rise over the past 20 years. She pointed out that a multi-sectoral Committee on Promotion of Breastfeeding was established, promoting breastfeeding through multi-pronged strategies and collaboration. Over the past few years, the Government has been pressing ahead the Breastfeeding Friendly Workplace and Premises policy. Numbers of babycare rooms and lactation rooms have increased accordingly, offering greater convenience to breastfeeding women.
Dr. Barbara Lam specified, with the support from the public, community awareness towards the benefits of breastfeeding has been enhanced. UNICEF HK held the '2022 World Breastfeeding Week Photo Competition' earlier this year, echoing the themes of 'Say Yes for Love', 'Say Yes for Joy' and 'Say Yes for Pride'. She said, "We hope to further cultivate public's positive attitude towards breastfeeding. UNICEF HK will continue to encourage and engage more sectors to nurture a welcoming environment for mothers to breastfeed anywhere and at anytime."
During today's celebration, Dr. Thomas Chung Wai Hung, Dr. Leung Wing-cheong, Mr. Ricky Chu Man-Kin, and representatives from various companies also shared their views and experiences in promoting breastfeeding. It is worth mentioning that apart from known companies and workplaces joining the campaign, there are also new supporters this year coming from co-working spaces which participate in "Say Yes To Breastfeeding" and provide facilities to breastfeeding mothers in need.
UNICEF HK launched the 'Say Yes To Breastfeeding' campaign in 2015 with the aim of raising public awareness on the needs of breastfeeding mothers. Since its launch, the campaign has received positive and active responses from various sectors. The campaign has successfully reached out to a network of over 7,000 corporate members and 63,000 professionals through collaboration with various chambers of commerce and social welfare organizations.
We wish to have your suppor to 'Say Yes To Breastfeeding' campaign and join in hands to support breastfeeding together!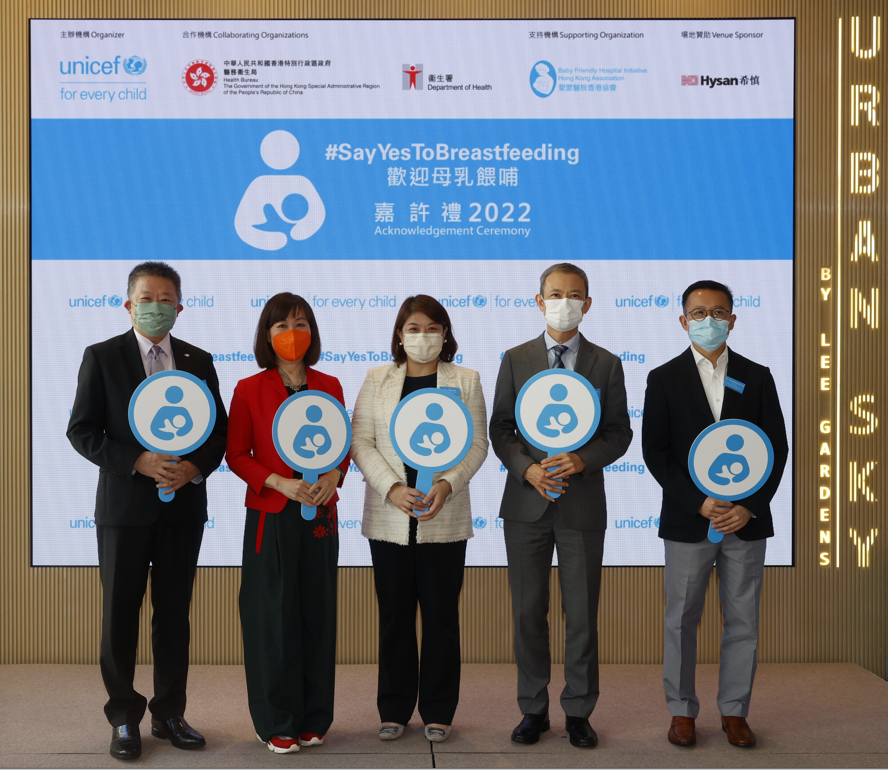 From left to right: Mr. Ricky Chu Man-Kin, Chairperson of Equal Opportunities Commission (EoC); Dr. Barbara Lam, Council Member of UNICEF HK; Dr. Libby Lee, Under Secretary for Health of HKSAR Government; Dr. Thomas Chung Wai Hung, Consultant Community Medicine (Family and Student Health), Department of Health; Dr. Leung Wing-Cheong, Chairperson of Baby Friendly Hospital Initiative Hong Kong Association (BFHIHKA) ©UNICEF HK/2022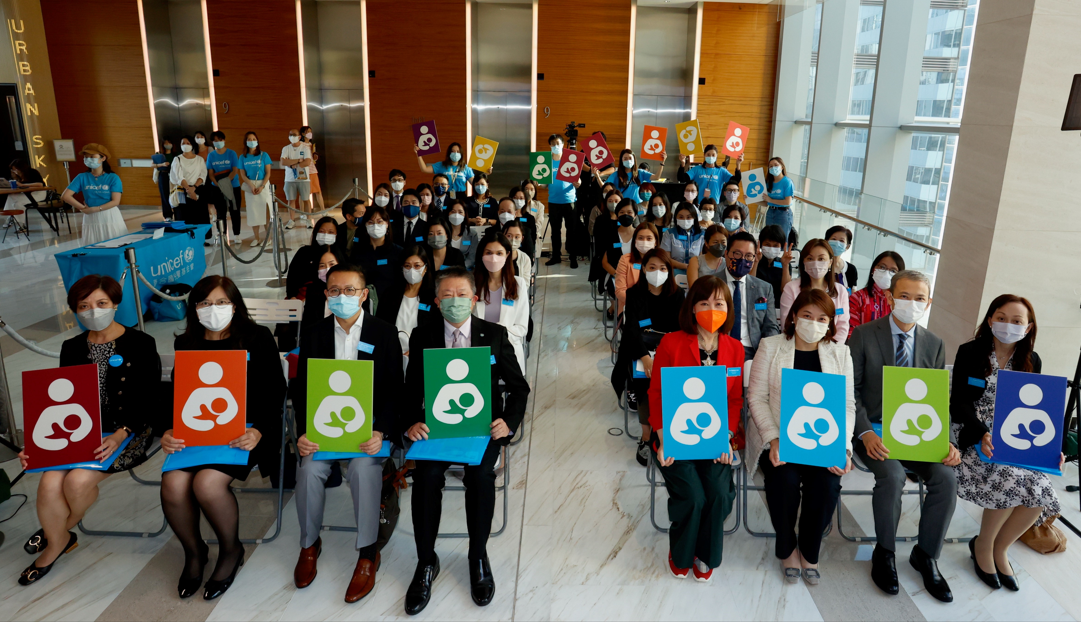 'Say Yes To Breastfeeding' campaign has successfully reached out to a network of over 7,000 corporate members and 63,000 professionals through collaboration with various chambers of commerce and social welfare organizations ©UNICEF HK/2022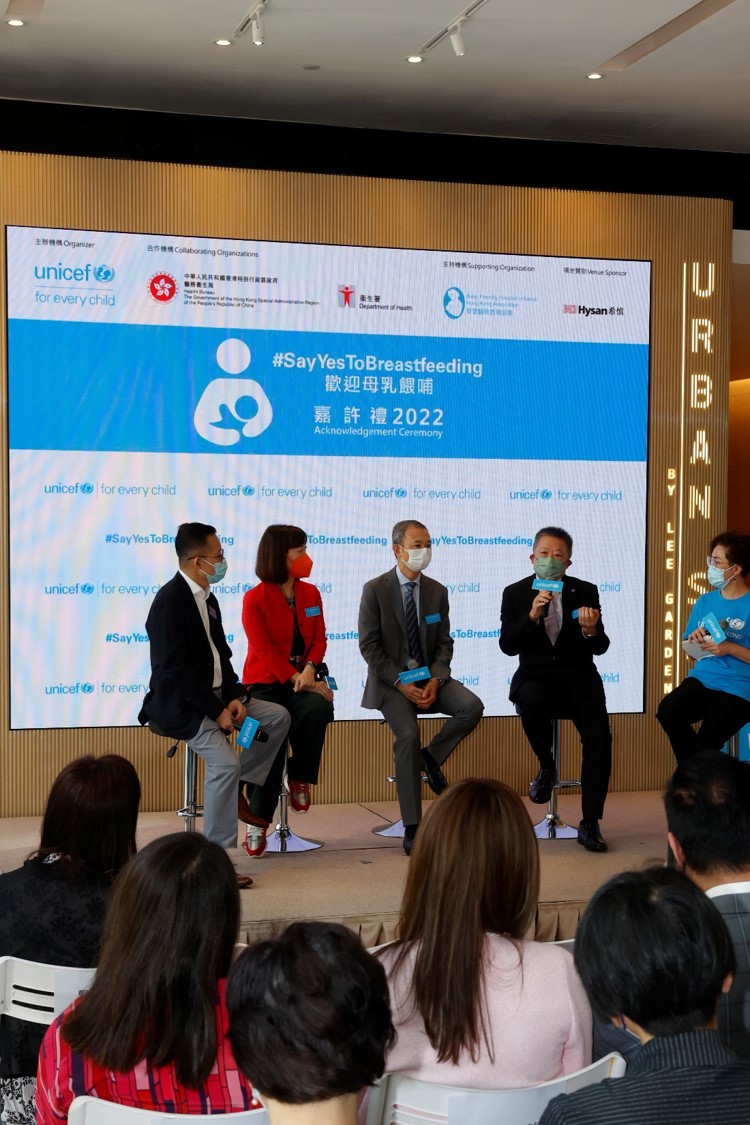 From left to right: Dr. Leung Wing-Cheong, Chairperson of Baby Friendly Hospital Initiative Hong Kong Association (BFHIHKA) ;Dr. Barbara Lam, Council Member of UNICEF HK; Dr. Thomas Chung Wai Hung, Consultant Community Medicine (Family and Student Health), Department of Health;Mr. Ricky Chu Man-Kin, Chairperson of Equal Opportunities Commission (EoC) ©UNICEF HK/2022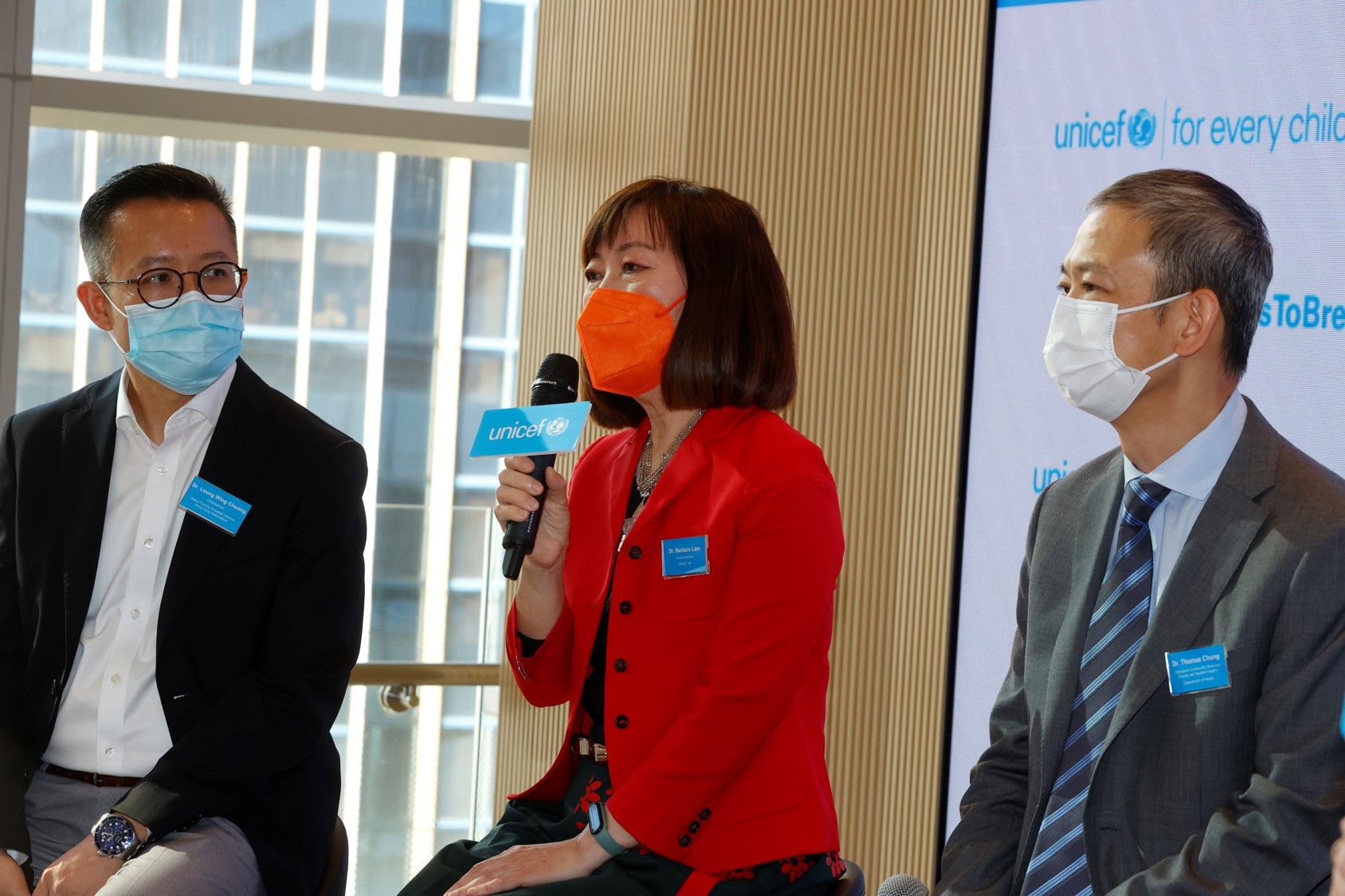 Dr. Barbara Lam, Council Member of UNICEF HK ©UNICEF HK/2022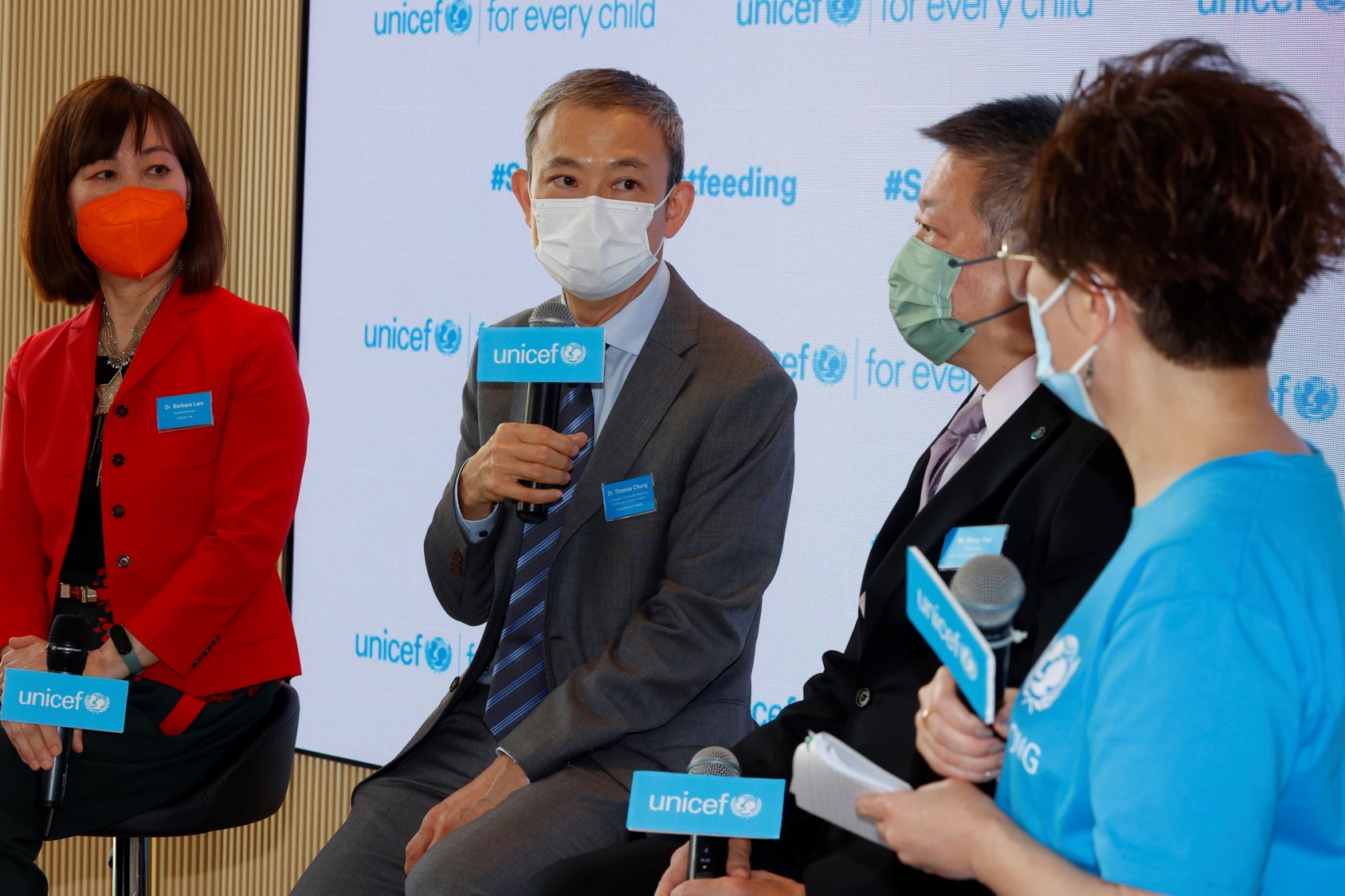 Dr. Thomas Chung Wai Hung, Consultant Community Medicine (Family and Student Health), Department of Health ©UNICEF HK/2022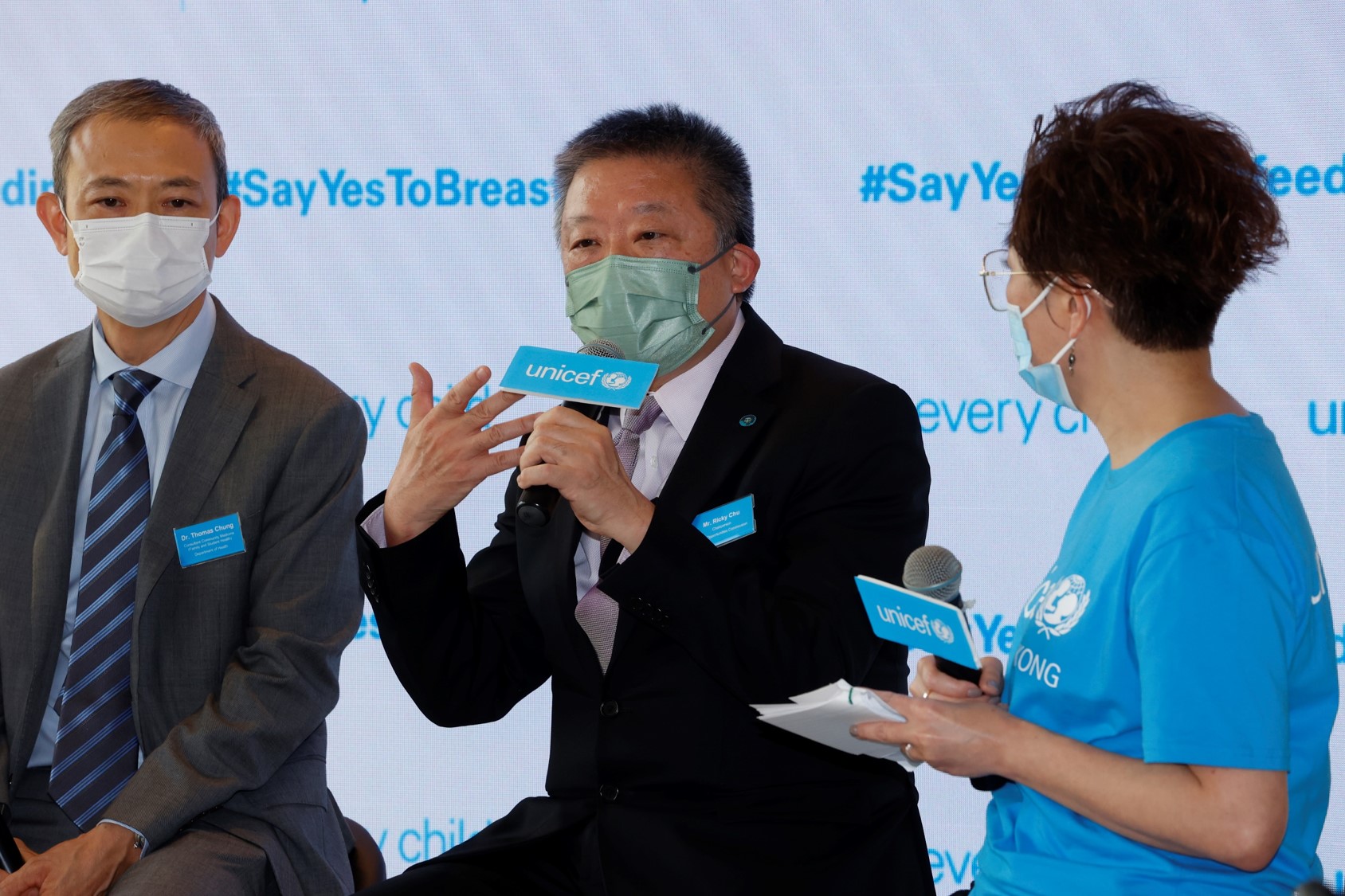 Mr. Ricky Chu Man-Kin, Chairperson of Equal Opportunities Commission (EoC) ©UNICEF HK/2022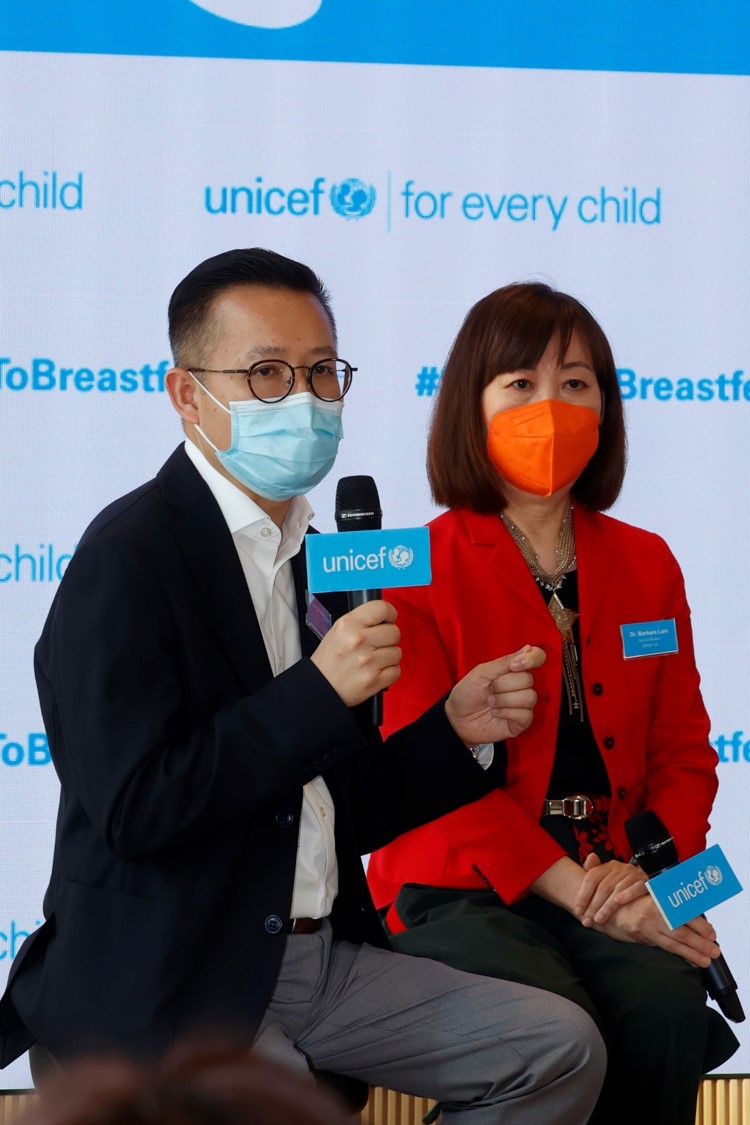 Dr. Leung Wing-Cheong, Chairperson of Baby Friendly Hospital Initiative Hong Kong Association (BFHIHKA) ©UNICEF HK/2022
Appendix Table 1:
List of recognized companies/organizations (in alphabetical order)
Most Responsive Partners
| | |
| --- | --- |
| · Chinese Estates Holdings Limited | · Citywalk 2 |
| · MTR Corporation | · Royal Plaza Hotel |
Breastfeeding-Friendly Pioneer
| | |
| --- | --- |
| · City University of Hong Kong | · CMB Wing Lung Bank Limited |
| · HKBN Ltd. | · McDonald's Hong Kong |
| · Swire Properties Limited | · Tung Wah Group of Hospitals |
Effective Outreach Partners
| | |
| --- | --- |
| · EC Healthcare | · Lightmac Medical Skincare Centre |
| · Momcare Education Limited | · Ocean Park Hong Kong |
| · Times Square | |
Appendix Table 2:
List of corporates newly pledged as breastfeeding friendly premises or workplaces (in alphabetical order)
Breastfeeding Friendly Premises
| | |
| --- | --- |
| (Gold Label) | (Blue Label) |
| · Central Market | · Hotel ICON |
| · Nan Fung Property Management – MOS Centre | · ROMENSA |
| · Nan Fung Property Management – The Mills | |
| · Nan Fung Property Management – TKO Plaza | |
| · Nan Fung Property Management-Nan Fung Place | |
| · Noah's Ark Hotel and Resort | |
| · playground.work | |
| · theDesk | |
Breastfeeding Friendly Workplace
· Australia & New Zealand Banking Group Ltd
· BioCycle (Hong Kong) Limited
· Bupa (Asia) Limited
· CASH Financial Services Group Ltd
· Citybus Limited
· Concordia Lutheran School
· DIREACH (H.K.) Limited
· Hong Kong Metropolitan University
· Kinetix Systems Limited
· KML Engineering Limited
· Nan Fung Property Management
· Nan Fung Property Management – Golden Dragon Industrial Centre
· Nan Fung Property Management – MOS Centre
· Nan Fung Property Management – The Mills
· Nan Fung Property Management – TKO Plaza
· Nan Fung Property Management-Nan Fung Place
· Noah's Ark Hotel and Resort
· OIWA
· playground.work
· Quality HealthCare Medical Services Limited
· The Neighbourhood Advice-Action Council
· theDesk
· YesStyle.com Limited